Now, I don't assume that everyone who comes here knows how to Role Play right away. Those who know it, can look through this to confirm or check, that this is the way they are familiar with, and the rest can read it so they'll, well, hopefully, understand how it works.
Basically, since we can't Role Play wearing suits and costumes, and plays on fields or forests together, since we're a world apart, we use this Forum to role play. We make Characters that are posted according to a certain system.
http://syvaroleplay.forum-phpbb.co.uk/f15-characters
After you made a character and it has been approved, you can start. But, how? Well, we simply Role Play by posting. For example, we make a topic in the sub forum "New York City".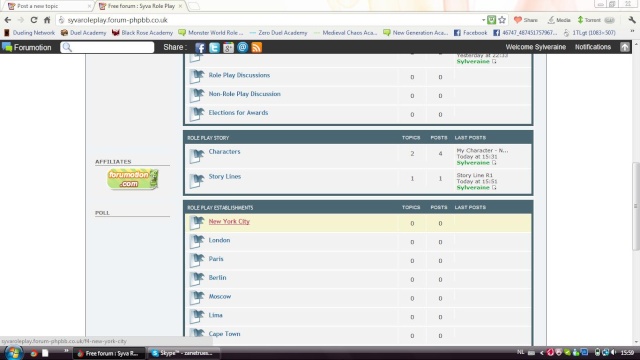 There you make the new topic, with a title you want to give it, and you start it something like this.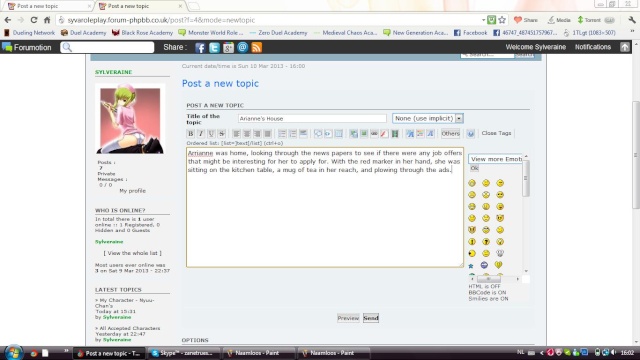 As you can see, it's written so that you describe your characters actions. This is the essence of Forum Role Play, since you post the actions of your character in a topic, and someone whom you're Role Playing with, is posting actions and reactions according to what you post. Here's an example of an existing Forum, how it all works.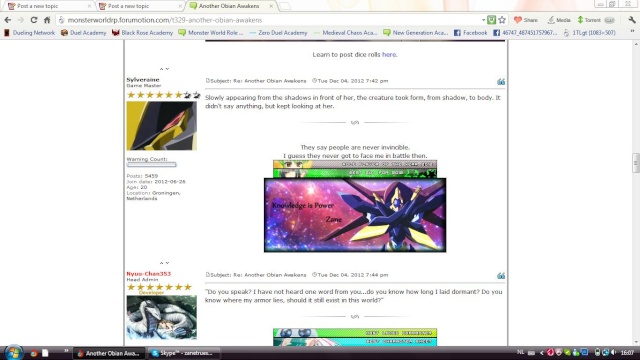 Now that you know how it all works, I hope you can be prepared for Role Playing with the people here. Just stick to the rules, and you can have all the fun you want. After all, this is a place to relax, and let your imagination go free.